You have to hold this in your hands to truly appreciate the minimalist design. It feels solid in your hands with tight hinges, a solid keyboard and brilliant display. It's hard to believe but this little notebook can take a second hard drive and up to 16GB of RAM. Feel free to customize.
This laptop offers a great balance between size and portability. The screen is 12.5", the laptop weighs just 3 pounds and 0.79 inches thick. It's the perfect notebook for alternating between travel and serious work! The charger/power cord is included. This laptop is ready to work right out of the box. It includes our famous 1 Year Warranty.
Feel free to upgrade using the option above. Upgraded laptops still ship the same day if ordered by 2:30CST. We are THAT good. Supplies are limited and this deal will only last a few hours so grab one while you can!
Specifications: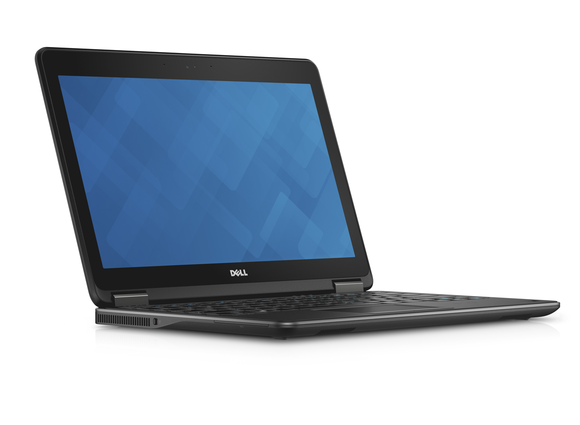 Intel Core i5-4200U CPU


4GB Memory

128GB Solid State Storage

12.5 Inch HD Anti-glare Display

1366 x 768 Resolution

Built-in WebCam

HDMI & mDisplayPort Video Output

3x USB 3.0 Ports

Memory Card Reader

RJ-45 Ethernet Connector

802.11g/n Integrated WiFi

Windows 8 Preloaded
Dell's Latitude E7240 is a class act among 12.5-inch business laptops, but you'll need to pay to play: This Ultrabook costs a cool $1795 as configured for this review, though you can get into a lesser configuration for $500 less.
Styled largely in black and charcoal with minimal white highlights, the Latitude E7240's sedate, no-nonsense looks won't blow anyone away. The keyboard has a solid feel and bounce (a relief after the saggy unit Dell put on its Inspiron 7537), and the touchpad with its single set of buttons is smoothly responsive.
Dell's Latitude E7240 is surprisingly heavy for a 12.5-inch Ultrabook. It weighs in at 3 pounds.
The E7240's 12-inch Gorilla Glass display is as sweetly responsive as its touchpad. Its native resolution of 1366 x 768 is great for movies, but it also makes for tiny Windows icons and text. I immediately bumped everything up to "larger" in the display preferences, but I still found that to be less than ideal for older eyes.
With an Intel Core i5-4300U CPU, 4GB of DDR3/1600 memory, and a 128GB Samsung SSD, the Latitude E7240 posted a Laptop WorldBench 9 score of 69. That's a better score than Toshiba's Portege Z10t delivered with a Core i5 processor. Installing our benchmark suite bumped right up against the SSD's skimpy capacity, though.